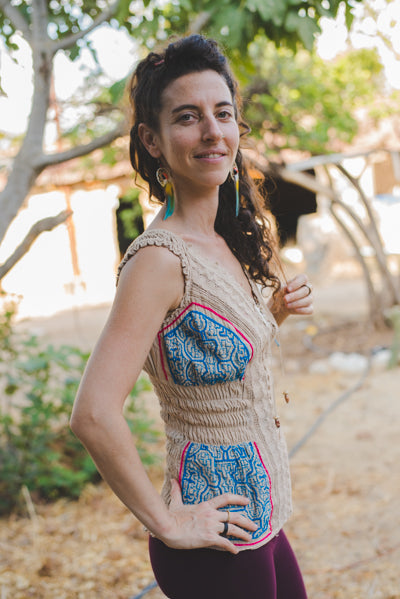 Wild Matter Arts
Shipibo Embroidery Elegant Singlet
Handmade Shipibo Elegant Shirt, featuring blue Icaro- a Shipibo shamanic ceremonial chant.

The Shipibo are an indigenous tribe living along the Ucayali River in the Amazonian rainforest of Peru. This tribe has more or less maintained their tribal identity and still practice their shamanic traditions and beliefs today.The Shipibo clothes are completely handmade by the Shipibo tribe, who sing icaros (shamanic songs) as they make their arts. The Shipibo woman paint using bamboo sticks and crushed berry fruits that turn blue-brown-black once exposed to air. They also use cotton to embroider the distinct patterns onto the cloth. You can be sure that the items they make are always of a high quality and completely unique.
-Size: small.
-made of cotton (100% natural).
-hand wash only.
-no returns on shipibo clothes.
Shipments Israel: up to 7 business days.
International Air Mail Shipping: USA - 5-10 days | EU: 5-10 days | Australia: 10-15 days.