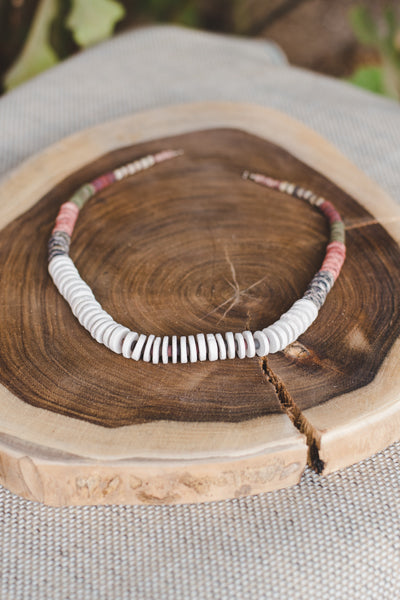 Wild Matter Arts
White Clay Beads Necklace
42.00 USD 56.00 USD
NECKCE02
One line necklace, with large rhymes. Simple and strong vibrations.
color: white-grey-pink.
-Each necklace comes with a pair of matching earrings.
This marvelous Clay Necklace art is made for many years now, by Edu and his wife Luz Mari and their family and neighbors, in their home workshop in Quindío, Colombia. The family is receiving a huge variety of soils from the region and from all over the country, and with their self-invented simple machinery and technique- they assemble these extraordinary, rich and variable designs.  

The materials are all natural and local. The different colors come from the minerals founded in the different soils they work with.

In our visit to this warm family's home, we discovered that their door is always open for all the neighbors and tourists that wish to learn about the process and how to create this unique art.

Now, we offer you their blessed High-Quality Clay Jewelry for the first time outside of Colombia.
Shipments Israel: up to 7 business days.
International Air Mail Shipping: USA - 5-10 days | EU: 5-10 days | Australia: 10-15 days.